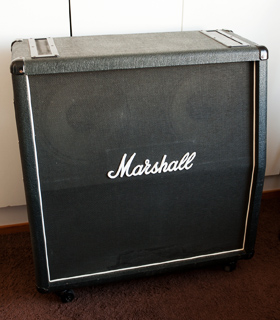 A Marshall 1960 Lead cabinet from 1981 with Rola Celestion G12-65 speakers. The G12-65 was used in Marshall cabinets only for a relatively short period of time - from 1979 to 1983. It is a perfect match for late 70's JMP's, early 80's JMP's and early JCM800's. What's even more fun is that it's pretty hard to find an amp that wouldn't sound good with these speakers. Very nice and warm sound with still a lot of definition - great for stadium rock and 80's rock/metal sounds, but also excellent for bluesier, less-gainy tones. Besides, the G12-65 is the speaker of choice for Robben Ford so it simply must be among the best speakers ever made.
This cabinet is probably one of the very last JMP era cabinets. The JCM800 series saw daylight later the same year with the addition of a golden "JCM800 Lead (or Bass) Series" badge on the lower left corner of the cabinets' front side (see my 1982A JCM800 series cabinet I used to have for comparison). Otherwise the visual appearance, mechanical construction and even speakers remained unchanged. This one has a round "100W" sticker on the back panel - Marshall used the remaining 100W labels well into the 80's even though the power capacity of these cabinets went from 100 watts up to 260 watts already by 1979.
This cabinet came to me all the way from Kedington, Suffolk, England. Someone had installed a sheet of glass wool to the inside of the back panel with strips of masking tape. The sheet was attached so haphazardly that I could hear it flapping around when I turned the cabinet into various different positions during my usual photo shoot session. As I opened up the cabinet, I tore the sheet away and vacuumed all the residue. Sheesh, I don't want glass wool (or any easily shattering material, for that matter) in my cabinets. Neither should you.
Cabinet Type: Angled
Impedance: 15 ohms
Black grille cloth / white piping
11-inch white Marshall "script" logo
Plastic corner protectors, handles and anti-skid trays, black
Black Homa steel casters
Speaker Type: Rola Celestion G12-65 (model T3054), 15 ohm, 85Hz bass resonance, serial numbers: BP11 (February 11, year 1981)
Power capacity (RMS): 260 watts
s/n: 5040