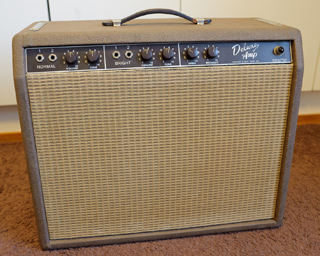 Most people refer to Blackface or Tweed era amps when they talk about the classic Fender tone - and often rightfully so. However, as for guitar amps, the early 60's were perhaps the most innovative era at Fender: there were some very, very interesting and fresh ideas introduced during the Brownface era, and the Deluxe 6G3 certainly is a great example of that. Among Fender enthusiasts the Brownface Deluxe Amp is known as a "mini-Marshall" - and as soon as you hear it, you'll understand why. If you like overdrive, this amp is for you. To put things in perspective, a Brownface Deluxe has a bit more headroom than a Tweed Deluxe, but it's much "browner" and thicker-sounding than the Blackface Deluxe and Deluxe Reverb that were next in line - so you could call it a missing link, but that's just one way of seeing (and especially hearing) it.
A quote from ToneQuest Report from March 2005 nails it: "These amps pioneered innovations that remain Fender and industry standards to this day. Responding to input straight from the bandstand, Leo moved the controls to the front for the first time. Fragile tweed was not holding up well on the original Fender line; enter the idea of tolex, another feature that was copied by other manufacturers. Brown Fender amps have a place in history as the first appearance of a fully evolved version of the modern tube amp designed for the guitarist. Not a whole lot has changed in this ergonomic design since Leo laid it down for us back in 1960, and to own one of these amps is to possess a relic from the very beginnings of tube-and-tolex magic." (Link to the original article)
The Brown Deluxe is known for having been used by at least a handful of legendary guitarists: Billy Gibbons is my favourite example. Check out the 1980 live performance of ZZ Top's "Cheap Sunglasses" here and you'll see the mighty little Deluxe sitting on the drum riser with a microphone stuck in front of it. The sound isn't quite what you'd associate with Fender at first. The tone is just too ... yes, too brown. Also Ted Nugent is said to have recorded some of his most popular music with a brown Deluxe. Recently I installed a '76 Celestion Blackback G12H speaker in this amp - also to preserve the original Jensen - and now the overall tone is even more British, if you will. There's a whole lot of midrange roar and top end bite on tap now, this thing just screams!
This particular amp is one of the early examples (s/n D 00321, the 321st brown Deluxe ever made - of around 4900 in total). With today's higher wall voltages this amp runs pretty hot: I measured the plate voltage of this very amp and it was a whopping 470 volts on the power tubes! That's more than 150 volts higher than the original 6V6 specification suggests. I'm running brown base 6V6GTY Sylvania tubes and they don't seem to care. The amp had been professionally recapped with high quality Sprague electrolytics before I bought it. One drifted resistor had also been replaced near the filter capacitors. I run this amp with a 230V->115V stepdown transformer, so the original Schumacher mains transformer is being used. A 22k bias trimmer was installed in the bias circuit alongside a 15k resistor, so now the amp can be biased to accept a variety of different 6V6's. The work on the bias circuit was carried out by my good friend and a great amp tech, Jaska - thanks again!
Specifications
Model: Deluxe
Model No: 6G3
Config: Combo
Control Panel: Brown, forward facing w/ white screened labels, controls numbered 1-10
Front Control Layout: Normal: In, In, Volume, Tone - Bright: In, In, Vol, Tone - Speed, Intensity - Pilot Lamp
Rear Control Layout: Ground Switch, Fuse (2A), Power Switch, Speaker Jack, External Speaker Jack, Tremolo footswitch
Knobs: Brown round
Dimensions: 21" x 17.7" x 9.6" (53.5 x 45 x 24.4 cm)
Weight: 12 kg (26 lbs)
Cab Hardware: Leather handle, 4½" chassis straps, glides
Cab Covering: Brown Tolex
Grille: Wheat grille cloth
Logo: none
Speakers/Load: 1 x 12" / 8 ohms
Speaker Model: Jensen P12Q Alnico, smooth cone, felt dustcap
Effects: Tremolo
Footswitch: missing
Output: 15 Watts
Preamp: Normal: ½ 7025, Bright ½ 7025, ½ 12AX7 (common to both channels)
Power: 2 x 6V6GT
Bias: Fixed, nonadjustable
Rectifier: GZ34
Phase Inverter: 12AX7 (long tailed)
Transformers: Schumacher
Other: Tremolo: ½ 12AX7 (bias vary)
Tube configuration
V1: preamp (Normal channel 1st stage)
V2: preamp (Bright channel 1st stage)
V2A: preamp (common 2nd stage)
V2B: tremolo oscillator
V3: phase inverter
V4, V5: output tubes
V6: rectifier
Serial numbers:
Chassis: D 00321
Tube chart: LA (January 1962 - probably a mistake, since the amp is a 1961), Production #5, "A" hand-written after "6G3"
Mains transformer: 125P2A, 606117 (1961, week 17)
Output transformer: 125A1A, 606121 (1961, week 21)
Speaker: 220124 / P12Q C6188 (frame) - denoting Jensen P12Q, 1961, week 24; 2146H1 (speaker cone), 46450 (magnet bell cover)