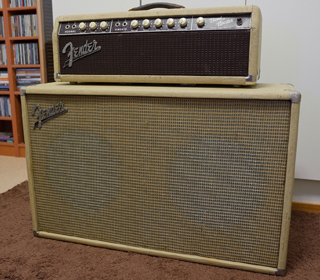 This is the first Fender amp I ever purchased in 2005: a blonde tolex Fender Bandmaster 6G7-A head from 1962. Two years later I found a matching 2x12" closed-back cabinet. The cabinet came with Jensen Concert Vibranto LMI 122 speakers, a more-or-less common factory-replacement for blown-up speakers in the 60's. Although wonderful sounding (and actually nowadays sought-after, I've been told), they weren't exactly the speakers intended to be used with this amp. Years went by and I almost gave up the hope of finding original Jensens - actually I almost forgot the whole thing. As luck would have it, finally in late 2012 I found a pair of period-correct Jensen C12N speakers in excellent condition to complete the package.
This amplifier sounds absolutely phenomenal and the vibrato channel is like no other on this planet. It is the famous Fender "harmonic vibrato" that uses three preamp tubes alone. As stated before, the head and cabinet were purchased separately: the head was found from Finland whereas the cabinet came all the way from the USA. The C12N speakers came from an englishman who also sold me a '60 Narrow Panel Tweed Deluxe Amp. Ok, the speakers are from 1963 and the amp is a 1962, but I guess you could do worse. The output tube sockets have been replaced at some point. The spring-type tube retainers have probably been added at the same time.The amp has been fully serviced (including new electrolytic capacitors) in April 2012.
Both the head and the cabinet are from the same year, 1962, but some cosmetic changes took place the very same year: the rough blonde tolex was replaced with a smoother one - and both versions are represented here as the head has a rough covering while the cabinet is covered with the smoother tolex. Also the handle changed from a tall "dogbone" one to a flat black plastic one the same year. And probably the most obvious change was the front grille: the earlier ones had a dark maroon grille while the newer ones have a wheat grille. Quite a bit of changes for one year!
The tube chart has some green handwritten text: "-A" after the model number (6G7) This was a common practice: Leo Fender never threw old parts away and the same held true also for tube charts: a 6G7 tube chart could be easily "upgraded" to a 6G7-A one in a second. There's also a word that I believe is "EXPORT" written on the top edge of the chart. What's left of it is actually just "PORT", but since this amp accepts 230V mains voltage, I doubt it would be anything else.
Head specifications
Model No: 6G7-A
Output: 40 watts
Control Panel: Brown forward facing w/ white labels, controls numbered 1 - 10
Front Control Layout: Normal: In, In, Volume, Treble, Bass - Vibrato: In, In, Volume, Treble, Bass, Speed, Intensity - Presence - Pilot Lamp
Rear Control Layout: Ground Sw, Fuse (3A), Power Switch, Standby Switch, Speaker Jack, External speaker Jack, Vibrato Jack
Effects: Tremolo (harmonic vibrato), original footswitch missing
Preamp tubes: 2 x 7025
Tremolo tubes: 12AX7, 7025, and ½ 12AX7
Phase Inverter: 7025 (long tailed)
Power tubes: 2 x 5881
Rectifier: Solid State
Transformers: Schumacher - the mains transformer is an European model that accepts 230V line voltage.
Bias: Originally fixed, a bias trimmer has been added to this one for greater versatility
Knobs: Cream barrel, unnumbered
Covering: Rough white tolex
Grille: Maroon
Handle: Brown "dogbone" handle
Logo: Grille mounted, flat, chrome & black, script "Fender"
Hardware: 4½" chassis straps, corner protectors (cabinet hooks are missing)
Dimensions: 8" x 24" x 9" (20.3 x 61 x 22.9 cm)
Fuse: T3.15A 250V (in USA), T1.6A should be fine in Finland.
Tube configuration
V1: normal channel preamp
V2: vibrato channel preamp
V3-5: tremolo effect (harmonic vibrato, actually only one half of V5 is used)
V6: phase inverter (long tailed)
V7, V8: output tubes
Cabinet specifications
Construction: Sealed (closed-back)
Speakers/Load: 2 x 12"/4 ohms (8 ohms each in parallel)
Speaker Model: Jensen C12N, 1963
Covering: Smooth white tolex
Grille: Wheat
Handle: Flat black plastic handle with chrome end caps
Logo: Grille mounted, flat, chrome & black, script "Fender"
Hardware: metal corner protectors, piggyback thumb screw bushings and jack cup (tilt-back legs and glides are missing)
Dimensions: 21" x 32" x 11½" (53.3 x 81.3 x 29.2 cm)
Serial numbers:
Chassis: 56170
Mains transformer: J022822, 003 0372 7, CSA TEST
Output transformer: 022848 606-2-03
Choke: 125C1A 606-2-41
Speaker 1: 220350 (week 50, 1963) / A513 024924 / D513 025643 / C12N C6998-3 / 3012B14-H2 (cone)
Speaker 2: 220351 (week 51, 1963) / A513 024924 / D513 025643 / C12N C6998-3 / 3012B14-H2 (cone)