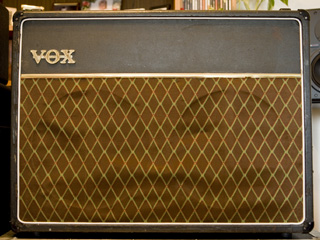 Vox AC30 combo from 1964. Six inputs, three channels: vib-trem, normal and brilliant. This one came from Sweden in autumn 2009. The previous owner of the amp is a professional musician who played (maybe still plays) in an internationally acclaimed ABBA cover band. The electrolytic caps and some worn-out/drifted components have been replaced and the amp has otherwise been fully serviced in March 2012.
Specifications
Model: AC30
Output (RMS): 30 watts
3 volume controls and tone control
Preamp Tubes: 5 X ECC83
Power Tubes: 4 X EL84
Rectifier Tube: GZ34
Power transformer: Albion OH 114/DT
Output transformer: Albion OH 083/DT
Choke: Albion P.E.241/DT / 20 Henries / 100mA / 500 ohms
Speakers: Celestion T530 Blue Alnico, date code: 31MH (December 31, 1963)
Black plastic vents and handles
Footswitchable vibrato/tremolo with four speed presets, original Vox footswitch
Fuse: 3A
The front cloth has been replaced at some point, as well as a couple of capacitors, nothing dramatic.
s/n: 12298 B (BASS)