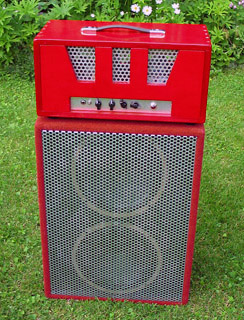 This is my first custom-order cabinet, built in 2005 by Timo Hurskainen. I had purchased a second-hand Uraltone Jr. amplifier (pictured on the right) that a previous owner had assembled in a red wooden enclosure and I wanted to have a red cabinet that would match its looks. The combination became a nice mini-stack, at least I think so.
The Uraltone Jr. was sold a couple of years later, but the cabinet is still in my possession and it has served me very well with various amplifiers. It's a great cabinet especially because of its versatile connectivity: you can run the speakers in series, parallel or even separately with two different amps.
The metal front grille and the furry coating can take a lot of beating - this is the only cabinet I could consider lending for a punk band. It's virtually indestructible.
Specifications:
Handmade in Finland by Timo Hurskainen
Thick and robust birch veneer construction
Nice furry strawberry red fabric coating, easily vacuum-cleanable
Physical dimensions: 50cm x 68cm x 30cm (W x H x D)
2x12" cutouts for speakers
Isolated chambers for both speakers for less interference and phase cancellation
12° slanted upper speaker removes the need to tilt the whole cabinet
3-way switch for operation mode (examples for 8-ohm speakers):

16Ω (speakers in series)
2 x 8Ω (for dual mono / stereo use, separate inputs for both speakers)
4Ω (speakers in parallel)

Parallel jack and XLR inputs
Slightly recessed connector panel
Detachable back plates for each speaker - customizable bass response
Robust metal front grille
Rubber covered metal handles for easy carrying
Metal corner protection caps
Large rubber feet