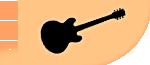 Marshall JMP model 1986 (1967)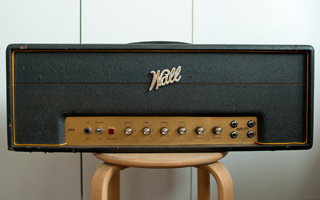 A plexiglass panel Marshall JMP 50W (bass) head from 1967. No bells or whistles here: four inputs and a blues/rock tone to die for. Very smooth and purring breakup compared to the later JMP's (the ones made in the early 70's etc). This amp uses significantly lower power supply filtering compared to later models that followed. This causes the amp to feel "spongier" as opposed to the tighter-sounding units with increased filtering. Also, these early models don't break up as soon so you'll have to run them pretty loud before you get the crunch - but it's worth it, I guarantee!
The electrolytic caps have been replaced and the amp has otherwise been fully serviced in November 2011. Also a bias trimmer was added for greater versatility.
Specifications
Model: JMP 1986, i.e. bass version
Output (RMS): 50 watts
3 Band EQ
Preamp Tubes: 3 X ECC83
Power Tubes: 2 X EL34
Controls: Presence / Bass / Middle / Treble / Volume I / Volume II
Speaker Outputs: 2 parallel (switchable 4 / 8 / 16 ohm total load)
Transformers: Drake 784-139 (OT), Drake laydown 1202-118 (PT)
TAD GoldCap filter capacitors (16uF+32uF/500V radial on top of the chassis and 33+33uF/450V axial on the board)
Sprague Atom bias supply capacitors (8uF/150V)
Philips V1 cathode bypass cap (220uF/63V)
Original 68k bias resistor replaced with a 62k resistor and a 10k trimpot
Bulgin mains socket, jumper style impedance and mains selectors
Fuses: T2A 250V (mains) / T1A 500V (HT)
The original logo is missing
Two rectifier diodes have been replaced
Marshall Amps Info & Schematics
s/n: S/ 10688