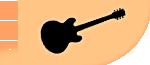 Marshall JMP model 1987 (1968)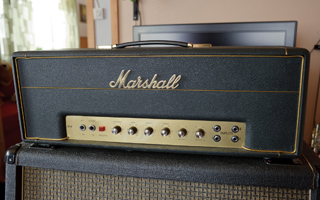 This is just about as good as it gets when we're talking about a museum piece plexi Marshall. This particular head is from the latter half of year 1968. It has a stock slider type bias trimmer, somewhat rare 40+40uF Marcon Chemicon filter caps... and of course the unmistakable tone of a late 60's plexi: rich, punchy and aggressive. The inspection tag is signed (among others) by Rosemary, the one and only. Two rightmost connector pins of the script logo are broken and there's a small scuff in the tolex on the bottom side - something that could be glued back on. Still, even the power tube retainers seem to be original.
This amplifier has been overhauled in October 2013 at Jaska's Music Garage. All electrolytic capacitors were replaced, also all mechanical connections were checked just to be sure.
Specifications
Model: JMP 1987, i.e. lead version
Output (RMS): 50 watts
3 Band EQ
Preamp Tubes: 3 X ECC83
Power Tubes: 2 X EL34
Controls: Presence / Bass / Middle / Treble / Volume I / Volume II
Speaker Outputs: 2 parallel (switchable 4 / 8 / 16 ohm total load)
Transformers: Drake 784-139 (OT), Drake laydown 1202-118 (PT)
TAD GoldCap filter capacitors (32uF+32uF/500V radial on top of the chassis and 32+32uF/500V radial bolted inside the chassis)
Sprague Atom bias supply capacitors (8uF/150V)
Sprague Atom V1a cathode bypass cap (250uF/25V)
Window style impedance and mains selectors
Bulgin mains socket
Fuses: T2A (mains) / T500mA (HT)
Marshall Amps Info & Schematics
s/n: S/A 10540