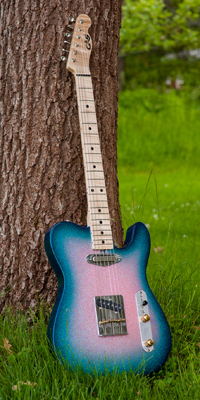 This is my first custom-made instrument ever. It is an artisan crafted Telecaster by luthier Pekka Mäkinen at GAS Guitarworks, Tampere, Finland. Pekka had been my go-to repairman for quite some time already when his workshop gradually began transforming from a nice little repair room to a miniature-ish, yet full-fledged one-man guitar factory with tools, craftmanship and customer service second to none. Anyway, Pekka approached me with a suggestion: he wanted to build me a custom guitar - one with no corners cut whatsoever. In autumn 2015 we started pondering over the technical and visual details of the instrument and in early 2016 the woods were already cut into shape. Just before midsummer celebration the guitar was ready to rock. Every single aspect of this guitar has been carefully thought out and only the best quality parts were used right from the tonewoods to the hardware - and that's easy to believe when you strike your first chord with this baby: the sustain is something you would normally associate with top-of-the-line Les Pauls, if not even better.
I got to hand-pick the tonewoods from Pekka's personal stash. The neck profile was actually copied from my dear Gibson Les Paul '59 Reissue - I prefer a chunky neck despite my small hands. The finish on the body is really something else: first it was painted with shell pink and after that no less than eight layers of highly sparkling flake and lacquer were applied. And as if that didn't look bold enough, we finished off with a stunning elecric blue burst that gets nice and dark towards the edges - the flakes can still be seen on the sides. The whole paintwork was eventually topped with another four layers of nitrocellulose lacquer. What's interesting about the finish is the fact that it seems to change colour depending on the viewing angle: some interesting shades seem to appear - ones that aren't supposed to even be there. The combination of the paints and the flake+lacquer seems to yield some very interesting results. I don't mind at all: the finish turned out even better than I had hoped for.
Most of the critical hardware is made by Erikoistuote Syvänen, a Finnish company that specializes in top-quality handmade guitar components that improve the tone, sustain and reliability of the instrument.
Specifications
Body: swamp ash, one piece
Neck: highly figured flame maple, Les Paul '59 profile (23.6 mm at the 1st fret, 24.3 mm at the 12th fret), 4 bolt neck plate (made by Erikoistuote Syvänen) with engraved "GAS Guitarworks" logo, 2-way truss rod, American walnut truss rod cover strip
Headstock: Regular Telecaster headstock with ebony "GAS" logo
Fretboard: 9.5" radius, 21 Jescar vintage size stainless steel frets, ebony dot inlays (8 mm on top, 3 mm on the side)
Nut: handmade from graphite, compensated, 42.4 mm width
Scale length: 25.5"
Finish: shell pink, 8 layers of Starpaint Metalflake (Flour Pink)+nitrocellulose lacquer, electric blue burst, 4 layers of nitrocellulose lacquer
Pickups: Vuorensaku handwound Traditional T-set (Alnico V, neck 5,6 kOhm, plain enamel 43 AWG; bridge 7,1 kOhm, plain enamel 42 AWG)
Hardware: Erikoistuote Syvänen stainless steel bridge with compensated brass saddles, Erikoistuote Syvänen control plate, chrome pickup ring around neck pickup, de Lisle brass string ferrule block, Grover strap buttons (Schaller compatible), StewMac jack cup, gold knobs
Electronics: CRL 3-way pickup switch, CTS potentiometers, StewMac Orange Drop .047uF cap, Switchcraft output jack, 50's wiring
Pickguard: none (for a very obvious reason)
Tuners: Gotoh SD510 Double Speed Lock
String tree: Dynaguide.nl
Serial number: 003