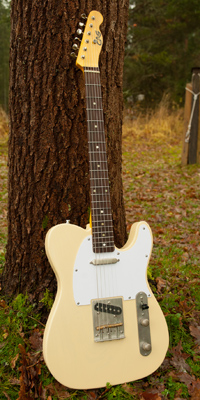 The elegant simplicity of a Telecaster has really appealed to me for quite some time now. I had already received one very special, cosmetically over-the-top Telecaster from my go-to luthier Pekka Mäkinen from GAS Guitarworks a year earlier. As I was gigging regularly at the time and that guitar was for the most part residing inside the touring vehicle, I kind of needed another Tele for home and hobby use. Out of this sheer necessity I once again reached Pekka who had by coincidence just received a remarkable pile of high-quality lightweight swamp ash and he was more than eager to help me again.
This time we took a totally different route: instead of a sparkling and shiny bling thing I wanted a super-simple, just-your-basic-nuts-and-bolts type of a Telecaster that resembles the best workhorse guitars from the early 50's when the model was first released. Because of this I chose the classic Butterscotch Vintage finish and a white pickguard. Also as the previously built Tele had a one-piece maple neck+fretboard, I wanted "the other one" this time, so a rosewood fretboard was chosen - and I think it looks stunning!
The pickups on this guitar are made in-house. There's one little change to the classic pickup configuration: the neck pickup has a coil that's taller than a regular Telecaster neck pickup has. What this does is it makes the tone somewhat similar to that of a Stratocaster neck pickup: lots of definition and clarity. It still sounds like a Telecaster, no worries. After the guitar was put together, Pekka asked if he could try to relic it a bit - nothing too radical, but some signs of use: little scratches, dings and nice patina on the hardware. I gave him free hands and as I saw the results, I think he did a great job - not that I'd really expected anything else.
Specifications
Body: swamp ash, one piece
Neck: maple, Les Paul '59 Reissue profile, but slightly smaller (23.0 mm at the 1st fret, 23.8 mm at the 12th fret), 4 bolt neck plate with engraved "GAS Guitarworks" logo, 2-way truss rod
Headstock: Regular Telecaster headstock with ebony "GAS" logo
Fretboard: rosewood, 9.5" radius, 21 Jescar vintage size stainless steel frets, mother-of-pearl dot inlays (6 mm on top, 2 mm on the side)
Nut: handmade from bone, compensated, 42.4 mm width
Scale length: 25.5"
Finish: Butterscotch Vintage
Pickups: GAS Guitarworks handwound, taller bobbin on the neck pickup for a slightly strat-esque tone
Hardware: 2 mm stainless steel bridge with compensated brass saddles, 2 mm stainless steel control plate, nickel knobs, Grover strap buttons (Schaller compatible)
Electronics: 3-way pickup switch, CTS potentiometers, StewMac Orange Drop .047uF cap, Switchcraft output jack, 50's wiring
Pickguard: white plastic
Tuners: Gotoh SD510 Double Speed Lock
String tree: traditional
Serial number: 015