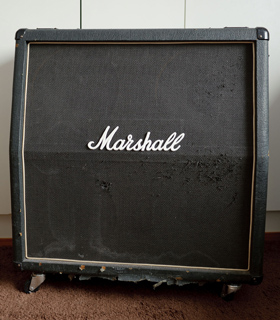 A Marshall 1960A Lead cabinet from 1979 with Rola Celestion G12-65 speakers. This particular speaker type was originally used for only a short period of time - from 1979 to 1983 - so it is a perfect match for late 70's JMP's, early 80's JMP's and early JCM800's. Very nice and warm sound with still a lot of definition - great for stadium rock and early 80's rock tones. Besides, the G12-65 is the speaker of choice for Robben Ford so it simply must be among the best speakers ever made.
This one has a "100W" label on the back plate - possibly Marshall used the remaining 100W labels first even though the power capacity of this cabinet is 260 watts (4x65W). After all it's a cabinet from a transition period - maybe one of the first Marshall cabinets ever to accommodate the G12-65's. Later models have the correct "260W" label on them. Some road wear can be seen all around the cabinet, but technically and sound-wise it works great!
The original logo had been truncated to "Mars" at some point of its life, so I replaced it with a current-production logo. The original one (or what's left of it) wasn't thrown away though, I'll keep it for sentimental reasons.
Cabinet Type: Angled
Impedance: 16 ohms
Black grille cloth / white piping
11-inch white Marshall "script" logo
Plastic corner protectors, handles and anti-skid trays, black
Current-production casters installed
Speaker Type: Rola Celestion G12-65 (model T3120), 16 ohm, 75Hz bass resonance, serial numbers: DM26 (2x), EM1 (2x) (April 26, and May 1 respectively, year 1979)
Power capacity (RMS): 260 watts
s/n: 5494