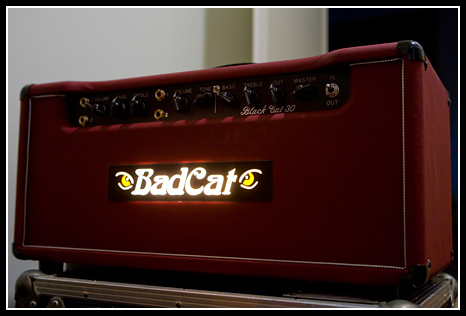 2 Channel, 4 Input: Hi-Lo Power, Speaker Phase Selector, Speaker Out, Speaker Impedance Selector, Channel Switching Available.
The Black Cat 30 Watt is available with or without spring reverb. Incorporating two entirely different pre-amp sections, practical user controls render the smooth Black Cat as the most suitable guitar amp for any performance venue.
Channel One 12AX7 "Triode" pre-amp is based on interactive Bass and Treble controls. Channel Two EF86 "Pentode" based pre-amp uses a 5 position tone knob for instant access to your favorite sounds, or switch to an interactive bass and treble circuit. The Black Cat is regarded by many knowledgeable players as the finest, most capable guitar amp available today.
-- badcatamps.com