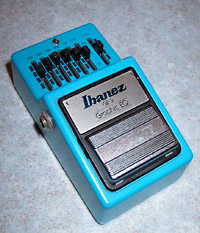 Equalizers are extremely useful frequency response modifiers. EQ's can change the sound of voices, instruments and signal processors such as distortion devices, phasers and time delay effects. They are also widely used in feedback control applications.
The GE9 Graphic EQ combines the simplicity of a graphic with whisper quiet circuitry.
The GE9 uses six octave-wide minimum-phase-shift filters for 15dB of boost or cut. The Level slider allows the signal level to be adjusted without disturbing the filter settings.
The GE9 Graphic EQ is a useful addition to any musician's system.
Specifications:
Input impedance: 500k ohms
Output impedance: <1k ohms
Maximum input level: +10 dBm
Maximum output level: +5 dBm
Filter Center Frequencies: 100, 200, 400, 800, 1.3k, 3,3k Hz
Filter bandwidth: 1 octave
Filter Control range: +/- 10dB center detented
Level Control range: +/- 10dB center detented
Equivalent input noise: -100dBm (IHF-A)