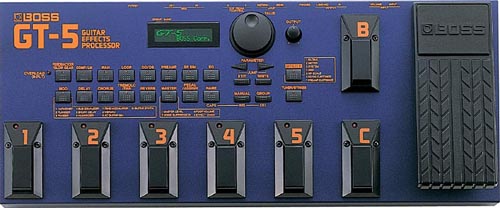 The BOSS GT-5 Guitar Effects Processor is the ultimate floor-type multiple effects unit, developed in pursuit of the largest possible effects variety and highest possible sound quality. Well-suited for intermediate-to-professional guitarists, the GT-5 provides a studio-quality guitar preamp/multi effects unit in a road-ready pedalboard design.
The GT-5 departs from other "all-in-one" guitar pedalboards in several significant ways; the first departure is its ultra-clean sound. Whereas other pedalboards tend to sacrifice signal quality for bells and whistles, the GT-5 starts with 22-bit A/D conversion and 18-bit D/A conversion at a 44.1kHz sampling rate for the cleanest possible reproduction of a guitar's tone.
After capturing the purest tone possible, the GT-5's preamp section employs Composite Object Sound Modeling (COSM), the same Roland technology found in the revolutionary VG-8 V-Guitar System, GP-100 preamp and BOSS GX-700. COSM allows guitarists to select from a number of computer-generated amplifier and speaker models, from American tweeds to British stacks, that sound virtually identical to theoriginals. COSM also allows guitarists to create some very unusual sounds with Harmonic Restructure Modeling (HRM), which provides synth-like tones monophonically with guitar-based dynamics.
Other standout features of the GT-5's 28 onboard effects, 13 of which can be used simultaneously, include: a new acoustic guitar simulator which turns any electric guitar's tone into a rich acoustic-electric sound; a "Drive Customize" feature which allows a degree of distortion/overdrive tweaking previously only available to Roland product development engineers; a "tap" tempo delay; an auto fade in/out setting; "sound-on-sound" recording; and a user-definable effects order.
BOSS has enhanced the GT-5 further by making its controls very intuitive; the GT-5 features a large LCD and rotary dial for quick and easy effects editing. A built-in expression pedal is automatically assigned to the most useful parameter for realtime adjustment and all settings may be controlled via MIDI if desired. If a guitarist doesn't want to fuss with editing parameters, the engineers at BOSS have included a wide variety of musically-useful presets for set-and-forget operation.
To make the GT-5 as road-ready as possible, it is equipped with a built-in tuner and is cased in an extremely rugged metal housing.
The GT-5 Guitar Effects Processor's professional sound quality, killer preamp and powerful multieffects make it BOSS' tour de force, setting a new standard for floor-based guitar processors.