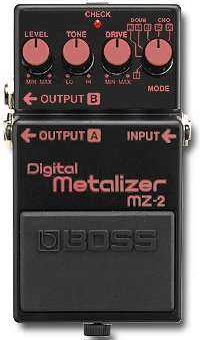 The MZ-2 is a somewhat unusual distortion pedal as it has 3 doubling modes, 2 chorus modes as well as a normal distortion mode. The distortion is produced in an analog circuit while the chorus and delay functions are created using a digital chip. The pedal has 2 main circuit boards where one of them is analog and the other one digital.
Boss Pocket Dictionary vol.6 (1989): Designed especially to meet the needs of Heavy Metal and hard rock musicians, the MZ-2 is a new distortion effects unit with built-in digital chorus and doubling to produce the full-bodied, hard-edged distortion and powerful spatial effects very popular in hard rock music today. Incorporating 6 modes and stereo outputs, the MZ-2 can produce straight, no-nonsense distortion which can then be doubled or chorused, producing a wide range of popular hard rock and Heavy Metal effects.
Using the MZ-2
The MZ-2 is a new type of distortion unit that's optimized for creating Heavy Metal and Hard Rock sounds.
There are 6 Modes to select from, ranging from straight distortion, distortion plus digital delay doubling effects (3 types depending on delay time differences) to distortion plus digital chorus (2 types depending on the depth of chorus). Each Mode is instantly selectable and Modes can be switched as desired.
The setting indicated in Fig. 1 (Level 6, Tone 6, Drive 8, Mode Doub II) is ideal for Heavy Metal solos, combining rich distortion with a short delay.
Fig. 2 (Level 6, Tone 8, Drive 10, Mode Cho II)shows how to get a deeper, thicker distortion sound that fills more musical space. These settings combine heavy distortion with a deep chorus effect to give you a "three-dimensional" sound using the stereo outputs.
To intensity the sound when playing riffs, set the unit to doubling mode II and output the signal through the stereo outs.
Specifications
Controls: Level, Tone, Drive, 6-way Mode switch
Connectors: Input, Output A, Output B, AC Adaptor
Current Draw: 70 mA (DC 9V)
Weight: 450g/0.99 lbs.
Input Impedance: 1Mohm
Equivalent Input Noise: -120 dBm (IHF-A)
Recommended Load Impedance: 10kOhm or greater
Recommended AC Adaptor: PSA Series
The MZ-2 was sold from December 1987 to August 1992.