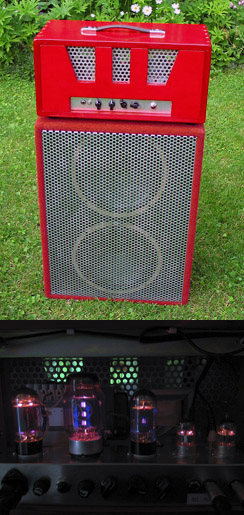 Uraltone Jr. is a 5-20 watt guitar amplifier designed by Mikko Kankaanpää. Its preamp section is based on the legendary Fender Champ amplifier. The power amp section is a double single ended (DSE) one with separate master volume controls for each power tube, which allows you to blend the sound of different power tubes independently. Also one single power tube can be used if so desired. The resulting sound is very "alive", breathing and detailed with an extremely smooth transition between clean and dirty sounds and with more dynamics than you could ever imagine - the Uraltone Jr. definitely responds to the way you play.
The Uraltone Jr. is entirely hand-soldered (point-to-point) and only high quality components (paper-in-oil capacitors, Hammond power transformer etc.) are used. Thanks to cathode biasing, power tubes can be replaced almost "on-the-fly" to experiment various combinations in search of the perfect tone™.
The Uraltone Jr. can be easily modified and there are already several mods available in the Uraltone (finnish only!) website. Mine already has the "extra gain / spring reverb" mod installed.
Specifications:
Originally built by Jari "wuchi" Mäkinen, modified by Veli Rytkönen
Power: around 5-20 watts - Class A, depending on power tubes used
Channel Configuration: One channel with footswitchable extra gain stage

I guess for some people that makes 2 channels, though the difference is technically just ½ ECC83... nevertheless the extra gain stage makes a huge audible difference.

Preamp Tube 1: 12AX7/ECC83, 12AT7/ECC81, 12AY7/ECC82 or similar
Preamp Tube 2 (extra gain stage): 12AX7/ECC83, 12AT7/ECC81, 12AY7/ECC82 or similar
Power Tube 1: 6V6, 6L6GC, KT66, 5881, 6P3C-E, 6P3C or similar
Power Tube 2: EL34, 6550, KT88, KT66, 6L6GC, 5881, 6P3C-E, 6P3C or similar
Rectifier Tube: GZ34 / 5AR4 / 5Y3 or similar
Front panel controls: Bass cut switch / Gain I / Tone / Master I / Master II / Tremolo speed / Tremolo depth
Rear panel controls: Power switch / NFB loop / Gain II / Reverb
Filter choke: Hammond 193H - eliminates hum and makes the amp virtually noiseless
Speaker Outputs: 2-16Ω (depending on power tube configuration)
Fold-back type reverb with Accutronics spring reverb tank
Tube tremolo based on Fender® Vibro-Champ™ tremolo circuit
Bass cut switch in the front panel for a less muddy sound with "ballsy" pickups
Detachable power cord (safer and more practical than a fixed one)
Metal corner protection caps
Rubber feet
[ sound clips ] *updated every now and then*
pictures: [ front ] [ back ] [ knobs ] [ guts ] [ chassis ] [ inside ] [ gain/reverb mod ] [ cabinet ]